Alpen-Zee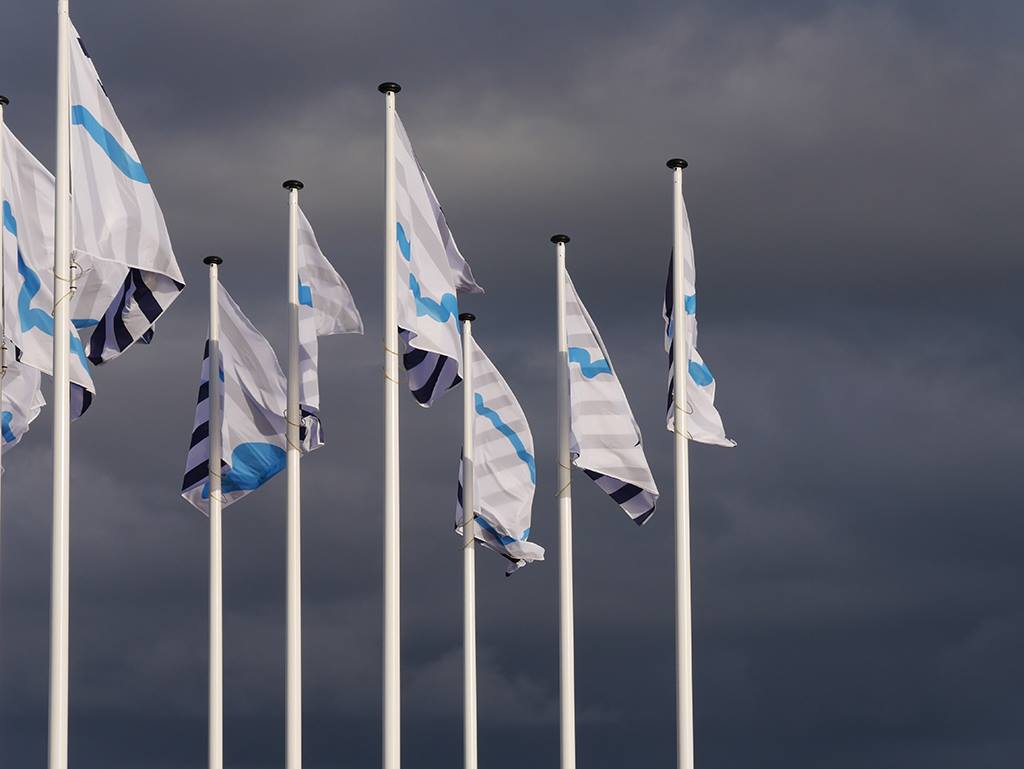 Twelve flags that display an index of the Rhine river from well to estuary. Commission by Suze May Sho
For the Windbaken #3 (more info below) an abstract index of the Rhine river is made, from the source in the Alps to the estuary in the North Sea. The Rhine meanders through Europe from Switzerland through Liechtenstein, Austria, France and Germany to the Netherlands and has a major impact on the rural landscape and culture in Europe.
By indexing the Rhine a visual grammar appeared whereby the river relates in every section on a different angle towards the longitude of the map. This element is enlarged which caused a tilt-dance of stripes.
The longitudes and the streamlining of the river are printed on different flags, a total of 24 flags. By two, the flags are attached to each other to accommodate the wind to keep moving the imagination of the Rhine, juxtaposing always a different relation between the river and the grid.
Context:
Rijkswaterstaat, the province of Gelderland and the municipality Rijnwaarden collaborate on the creation of a new nightport in Lobith, the place where the Rhine enters The Netherlands. In the framework of this project three works are curated by Heidi Linck as landmarks along the Rhine.
The third landmark is 'Windbaken' and developed by the collective Suze May Sho who placed 12 flag poles to program a series of flags on a special location in the river, near the Dutch-German border. The flags are designed by four different artists: Klaartje Martens, Wouter van Riessen, Aliki van der Kruijs and Hans van der Meer.